New Release Highlights - 3rd May 2017
Posted by Ben Fardon on
Here are the stand out new releases for this week!
Please note that due to the May Bank Holiday, new releases will not be available until 1pm on Wednesday 3rd May. If this changes we will update you via social media.
Graphic novels, merchandise and gaming may be purchased through our Click & Collect webstore from Wednesday 3rd May.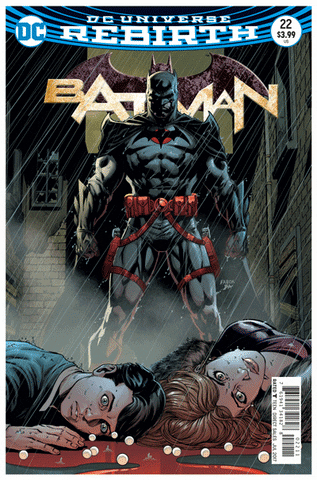 COMICS
Ab Irato #1 (of 6)
All New Guardians of the Galaxy #1
Amory Wars Good Apollo #2 (of 12)
Bane Conquest #1 (of 12)
Batman #22 (The Button)
Black Bolt #1
Blood Blister #2
Damned #1
Eternal Empire #1
Extremity #3
Ghostbusters 101 #2
Green Arrow #22
Green Lanterns #22
Guardians of the Galaxy Mission Breakout #1
Guardians of the Galaxy Mother Entropy #1 (of 5)
Harley Quinn #19
Jean Grey #1
Jessica Jones #8
Justice League #20
Nightwing #20
Outcast By Kirkman & Azaceta #27
Pestilence #1
Predator Hunters #1
Secret Empire #1 (of 9)
Spider-Gwen #19
Spider-Man Deadpool #17
Stained #1 (of 5)
Star Wars Poe Dameron #14
Star Wars Rogue One Adaptation #2 (of 6)
Stuff of Legend Call To Arms #2
Superman #22
Swordquest #0
Teenage Mutant Ninja Turtles Funko Universe (one-shot)
Underdog #1
Walking Dead #167
X-Men Gold #3
Youngblood #1
---
GRAPHIC NOVELS/BOOKS
All New Wolverine Vol 03 Enemy Of State II TP
Champions Vol 01 Change The World TP
Divinity III Stalinverse TP
Everafter From The Pages Of Fables Vol 01 Pandora TP
Lady Mechanika Vol 03 Lost Boys Of West Abbey TP
Rise Of The Black Flame TP
Strain Mister Quinlan Vampire Hunter TP
Strange Fruit HC
Superwoman Vol 01 Who Killed Superwoman TP (Rebirth)
Teenage Mutant Ninja Turtles Universe Vol 01 TP
Teenage Mutant Ninja Turtles/Ghostbusters Dlx Ed HC
Valerian Complete Collection Vol 01 HC
Wonder Woman Vol 02 Year One TP (Rebirth)
---
MERCHANDISE
Designer Series Conner Holiday Harley Quinn AF
Designer Series Conner Spacesuit Harley Quinn AF
Designer Series Conner Superhero Harley Quinn AF
Designer Series Conner Traditional Harley Quinn AF

---
GAMING
A Game Of Thrones The Card Game 2nd Edition LCG Guarding The Realm Chapter Pack (released Thursday 4th May)
Pokémon TCG: Legendary Battle Deck (Ho-Oh And Lugia) (released Friday 5th May)
Pokémon TCG: Sun & Moon Guardians Rising Boosters (released Friday 5th May)
Pokémon TCG: Sun & Moon Guardians Rising Theme Deck (released Friday 5th May)
Star Wars Destiny Spirit Of Rebellion boosters (released Thursday 4th May)
The Dark Eye RPG Game Master's Screen & Tavern Guide
The Others: 7 Sins Apocalypse (released Friday 5th May)
The Others: 7 Sins Envy Box (released Friday 5th May)
The Others: 7 Sins Greed Box (released Friday 5th May)
The Others: 7 Sins Lust Box (released Friday 5th May)
---
---
Share this post
---
---
---
0 comment